Parenting is hard.
Adult parenting is a lot harder than it should be!
When I look at how my parents did it, it looks easy. They made it look easy. There had to have been times when they were worried about us but they didn't show it. Okay, they didn't show it much. I know there were times when they were hurt by our choices as adult children but they were wise enough to let us make those bad choices (which, in the grand scheme of things, weren't all
that
bad). Being the 8th child and the 6th girl, by the time I was an adult I think they had adult parenting down pretty well. They never sat me down and gave me lectures or advised me about the choices I had to make...unless I asked. I can't say if they did the same thing with my older siblings or not, but we all turned out pretty well; we are all responsible adults.
I am attempting to parent my adult children the same way. I would like to think that my husband and I gave them enough guidance when they were children, but I'm afraid we were lacking. It's too late to do anything about it now, and we're being forced to show some "tough love". It just breaks my heart. You want your children to have it better than you did, to not struggle with the same things you did. In doing so, sometimes we go overboard with trying to make it easier on them by giving in to their requests/demands. But at some point, it has to stop. They have to learn to live on their own without the support of their parents. It means some rocky times, some times of maybe not hearing from them. That results in requiring a lot of trust in God.
A few weeks ago, during daily Mass, my priest said that we say we trust in God and we give him that trust, but then we take it away. That really hit home for me in so many ways. I want to completely and totally trust in His plan for my boys and, being a control freak, it's so hard to give up that control and hand it to Him. He knows the mistakes my boys are going to make and how they are going to fix them. If He knows, why is it so hard to hand it all to Him? (Enter the control freak.)
After not hearing from one of my sons in a few days (after an abrupt ending to a text conversation) I was worried. I poured out my heart in front of Jesus in the Adoration Chapel. I had a good cry and called upon the Holy Trinity, Mary, St. Monica, St. Augustine, and St. Anne to please watch over my baby and guide him. I got up to turn on the light; when I did I saw The Divine Mercy picture in the back of the chapel.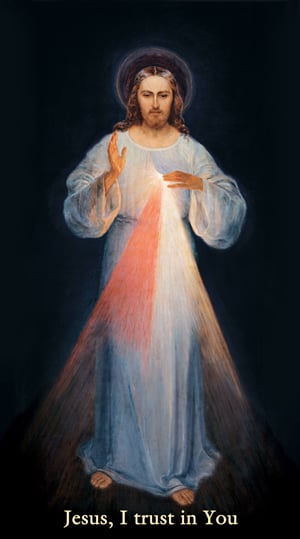 I heard my heart say, "Pray the Divine Mercy Chaplet". I didn't have my pamphlet with me, but, since I was in the Adoration Chapel, I knew there would be one on the bookshelf. There was, but it was in Spanish. There were cards there, so I grabbed one, went back to my seat (after turning on the light), pulled out my Rosary, and began. When I finished, I cried my heart out to Him more and spoke to Him...
really
spoke to Him. What a cleansing! When I got home I spoke to my husband about how I felt. He is usually more concerned than I am, and he didn't seem very concerned which eased my mind more. He is usually the one checking up on our sons and making sure everything seems to be going okay. My parents rarely contacted me unless they had a question about something. I hate to admit it, but there were times in my life when I would go weeks without calling them. My boys know where we are when they need us. They need to live their lives without having helicopter parents, and if I'm totally honest, it keeps me from being anxious and worried about them.
I'm not going to sugar-coat it: It's hard. It's hard to know what to say, when to say, and when to be quiet. It's hard to not give advice unless it's requested. With each of my 3 boys, adult parenting looks different. It looked different when they were growing up so I shouldn't be surprised that it looks different now that they are men. In the end, they are my babies regardless of how big they are or how old they are. I would take their pain rather than see them going through rough times. It just seems so much harder than it should be.
Are you getting close to having adult children? Are you already there? This article offers 3 ways we need to "let go" of our adult children.
Maybe you're in a situation where you are estranged from an adult child. This post may give you some consolation.
If your child is entering the "independent" stage, here are some tips that may be of some assistance in learning to let go.